Practical Experience from the Jewish Community of Zagreb
The Jewish Community of Zagreb (JCZ) serves as a social care centre for vulnerable Jews of Croatia. Care for Holocaust survivors is its focus, offering survivors an individualized approach and often representing their only home. Today there are more than 700 survivors in Croatia and most of them have direct or indirect contact with JCZ. Survivors in Croatia come from various cities in Croatia, such as Zagreb, Split, Osijek and Rijeka. Their Holocaust experiences are different – some survived through hiding under inhumane conditions, some survived terrors of concentration camps of Auschwitz, Bergen – Belsen, Jasenovac, Djakovo and many others. What is common to all though, is the personal trauma – due to the Ustasha and Nazi regime in wartime Croatia, their lives were threatened, and they were exposed to racial laws and persecution. Most of the survivors are the only members of their families who survived the Holocaust.  JCZ often represents the only contact survivors have with the outer world. Many survivors were either not able to have children or have children living abroad. Thus, their social network is very limited outside of JCZ.
The idea of assisting survivors is based on the long tradition of JCZ to support its frail members. Through the support of Claims Conference grants, JCZ serves as a place where needy survivors can get financial support for their health and social needs. Financial assistance is of extreme importance to our survivors, as they are aging citizens in a country where age is identified as one the highest risk factors leading to social exclusion and poverty. Therefore, all external funding JCZ receives is used to support survivors' health and social needs. The social care program for survivors funded through the Claims Conference includes assistance for homecare, meals on wheels, medical programming and an emergency assistance program.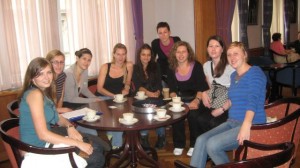 The Holocaust survivors themselves are extremely well organized and active. There is a "Geri Club," the social club for the aged. Thanks to the dedicated work of Dr. Melita Svob, Director of the Research and Documentation Center for Holocaust Victims and Survivors and President of the Association of Holocaust Survivors in Croatia, survivors meet on annual basis in a holiday resort where they enjoy a program full of activities, with the overall aim to improve the quality of their life. The Association of Holocaust Survivors also organizes Information Technology lessons for elderly members of JCZ.
Although such activities are vital to the benefit of Survivors, they are mostly focused on survivors in good health. Working as a social worker in JCZ, the problem I encountered was the lack of services and help for frail members. The big question is how to provide services to survivors despite the limited resources of funding and staff? What should be the role of a social worker in such circumstances?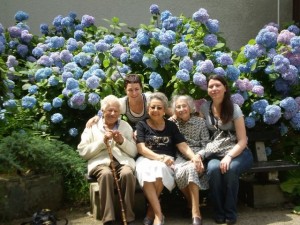 Work with Holocaust survivors demands crossing usual professional boundaries and often requires creativity and improvisation, especially in isolated communities. Being the only social worker in JCZ, the reality is no professional support or guidance, which is vital in this sensitive area of work. Thus it was important to bring experts and other relevant civil society organizations into JCZ and in that way to connect with other professionals. Thus, I initiated a project Days of Tolerance, dedicated to raising awareness of tolerance in Croatian society. It was a 4-day program that included guest lecturers, roundtable discussions, exhibitions, and film projections. The event was open to the public and there were a wide variety of guests, including Holocaust survivors, university staff, and representatives from various civil society organizations, governmental agencies, and political groups. Although this event was organized to honor International Holocaust Remembrance Day, the project is not limited to the Holocaust, but is initiated in the spirit of Tikkun Olam and so is dedicated to teaching about social exclusion and importance of both individual and national contributions toward a more tolerant society. This project resulted in excellent collaboration between JCZ and certain NGOs, created a platform for an exchange of ideas, and enabled direct contact between survivors and certain health specialists.
Research has shown survivors are not prone to asking for help through government agencies or other channels for various reasons, such as sense of pride, fear of stigmatization, lack of adequate information on how to realize rights from the existing social security system and rigorous processing guidelines to secure state benefits, and because they live in the country where they experienced their Holocaust trauma. However, through the social work service in JCZ, they are informed about available services and resources of assistance in their local community. In that way, JCZ social workers serve as a catalyst between governmental means of support and needy survivors. In order to achieve this, it was vital to establish effective cooperation with governmental social care centers. Motivated by the specific cases where local social service contacted Jewish community, governmental agencies were informed that social workers in JCZ offered to be the contact point between members of JCZ and governmental agencies. This has proved to be beneficial for survivors as they receive personalized support in pursuit of assistance in the local community. Also, as social workers often perform tasks around securing particular services, survivors themselves benefit by not having to go through all the paperwork.
Mental health needs represent a generally underserved issue in Croatia; food, housing, and medical care are the major points of governmental support for elderly citizens in Croatia.  However, working closely with survivors and getting direct insight through home visits, my experience has shown the need for emotional support and comfort, possibly even more than for other means of support. Also, children of Holocaust survivors need support to come to terms with their parents' aging and passing away. Support groups may have a long tradition in Western Europe, but in Croatia this is relatively new and still not a common practice. Due to the stigma psychological difficulties come with in Croatia, establishing such a support group for carers of people who suffer from dementia has been a challenge. However, the need does exist and the support group has proved to be an important safe place for its members. Dementia presents a huge challenge to society, both now and for the future, especially in SEE countries where governments have not made this a national priority issue. In Croatia specialized services and institutions have yet to be established.
Although JCZ has a tradition of a well-organized team of volunteers, the current demographic situation prevents the recruitment of new volunteers. Therefore, JCZ is trying to mobilize new resources in order to secure the wellbeing of survivors. One such initiative is the project of social work students' fieldwork practice in JCZ. This is its second year and 15 social work students are involved in this project. The JCZ social worker creates the fieldwork program and supervises students. Students receive training on the Holocaust and the specific needs of Holocaust survivors. They also participate in workshops facilitated by the social worker, where they discuss various issues of social work with survivors and elderly population in general. After the training each student is assigned to a survivor. Considering that each survivor requires a personalized approach, their interactions with students may vary. Students visit survivors in their residence usually once a week over the period of three to four months. According to feedback and evaluations, this project has been a major success. The advantages for survivors are numerous, especially for the ones who are more isolated and without family support: student visits provide company, emotional support, and practical help in daily activities, such as assistance for doctor visits, socializing, etc. Having someone to confide in and someone who wants to hear their stories, survivors tend to feel less depressed and less lonely. Also, they feel useful: they are informed that through their contacts, students get closer insight into the lives of the elderly, thus helping them to learn for their exams.
As bringing people from outside into the community may be a sensitive issue, social work students present a better option as they already possess relevant knowledge and skills necessary in the work with the elderly. Students themselves receive the unique opportunity to experience practical social work, one-to-one contact with the elderly, and to learn about Holocaust in an intimate setting. Participation in this project is entirely voluntary, so there is no pressure on either survivors or students. Although there are only a limited number of placements, due to the excellent cooperation with Faculty of Law, Department of Social Work, a JCZ social worker is a guest lecturer for the module of Gerontology, which means that all social work students receive some form of education on the Holocaust and social work with survivors, which is indeed a novelty on this Faculty. As for the financial side of the project, it does not require any funding.
Finally, with rapid aging of Holocaust survivors, it is our duty to secure excellence in provision of services and to asses and intervene from strengths perspective.
References
David, P.,(2003) Caring for Aging Holocaust Survivors: A Practice Manual, Baycrest Centre for Geriatric Care, Toronto, Ontario
Eitinger, L. (1993): The Aging Holocaust Survivor, Echoes of the Holocaust, 2, downloaded on January 23, 2008 from www.holocaustechoes.com/93Etinger2.pdf
Giberovitch, M.: Agenda for the Future: Formulating an Agenda to Meet the Needs of Elderly Holocaust Survivors, Downloaded on May 10, 2009 from http://www.holocaust-trc.org/glbagend.htm
Kennedy, G. J., Kover, E., Scalmati, A. (2009): Mental Health Services for Holocaust Survivors: Notes from the 2009 Professional Exchange to Israel, Primary Psychiatry, 16(12):26-31, downloaded on April 22, 2010 from http://www.primarypsychiatry.com/aspx/article_pf.aspx?articleid=2428
Rosenbloom, M. (1983): Implications of the Holocaust for Social Work, Social Casework 64(4):205-212
Svob, M. (2005): Jews in Croatia. What the Latest Research Reveals, Voice, Jewish Community Zagreb, 5, pp 14-21
Svob, M. (2000): Jews in Croatia, Holocaust Victims and Survivors, Research and Documentation Centre, Zagreb
UNDP (2006): Unplugged: Faces of Social Exclusion in Croatia, Human Development Report
Ana Hermanovic biography
Born in 1981 in Zagreb. Graduated in social work at the Department of Social Work, Faculty of Law, University of Zagreb. Working as a social worker in Jewish Community Zagreb since 2007. During studies worked as a Project assistant on the Health and Social Research of Holocaust survivors in Croatia at the Research and Documentation Center for Holocaust Victims and Survivors. Developed social work students' field work practice in Jewish community; facilitates support group for carers of dementia sufferers. Active volunteer and member of governing board of Alzheimer Croatia.
Contact info:
Jewish Community Zagreb
Palmoticeva 16, 10000 Zagreb, Croatia
E-mail: ahermanovic@gmail.com