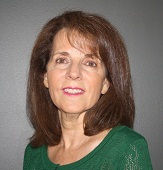 Article: DO WE HAVE FOCUS? – SUPPORTING HOLOCAUST SURVIVOR GUIDES AND VOLUNTEERS AT THE SYDNEY JEWISH MUSEUM
Rony Bognar has been the Volunteer Manager at the Sydney Jewish Museum for 12 years. Born in Israel and the child of Holocaust Survivors, Rony has constantly worked and/or volunteered in Jewish organizations for the betterment of the Sydney Jewish Community and Israel.  Rony's involvement with the Women's International Zionist Organization (WIZO) led her to her role there as President of WIZO New South Wales for 5 years (1992 – 1997), and then President of WIZO Australia for 6 years (1998 – 2004).
From 1995 to 2002, Rony was the Volunteer Coordinator for Aged Services at JewishCare. From there, she moved on to the Sydney Jewish Museum, where she works with volunteers, supporting all aspects of museum life.  As Volunteer Manager, working with a team of 220 volunteers, she is especially proud of the unique Survivor Focus Group, which she co-founded in 2006. She continues to co-facilitate this group.