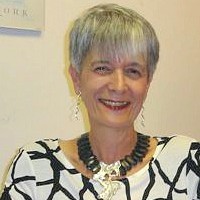 Article: Conference Presentation: End of Life
Judith Hassan was awarded a Bachelors of Science in Human Relations (Joint Honours in Psychology and Sociology), followed by a postgraduate qualification at London University in Social Work (Distinction). Ms. Hassan has worked for 43 years at Jewish Care in England. Her role as director of services for Holocaust Survivors and Refugees there included ongoing direct practice, supervision of a multidisciplinary team and the leadership and management of services.
For 36 years she pioneered and developed specialist therapeutic services for Holocaust survivors and refugees in partnership with those who suffered in the Shoah. Her endeavours consist of the establishment of Shalvata in 1990, and the Holocaust Survivors' Centre in London in 1993. Her book, "A House Next Door to Trauma," documents her internationally renowned research on survivor trauma and on those working with survivors. For the past 20 years she has directly worked with refugees from the Bosnian war, served as consultant to the Rwandan Survivors Service, as well as with other professionals in Europe to develop expertise on war related trauma. She has been a key presenter and organiser at international conferences in Europe and in Israel. In 2007, Ms. Hassan was awarded the National Care Awards Lifetime Achievement in Care, and in 2008 she was made an OBE by the Queen for her services to Holocaust Survivors.
Ms. Hassan is currently Special Advisor on Therapeutic Services for survivors and refugees from war trauma. She provides consultation for professionals working with refugees from Darfur and with Holocaust survivors.