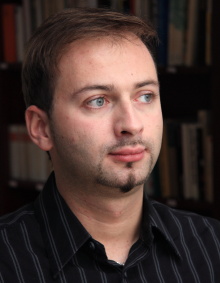 Article: Hagibor Social Care Facility
Radek Samuel Roule Ph.D was born in the Czech Republic. He was raised together with his brother and sister; and three went through the Charles University of Prague. Dr. Roule started his academic life in 1999. After his studies in Science of Religion he pursued studies in Psycho-Social Sciences and Theologyand earned a doctoral degree. Dr. Roule attends post-graduate Gestalt lectures to earn his European Accreditation of Psychotherapy.  His main interests lie in the fields of philosophy, psychology and therapy. He has been influenced by the work of Martin Buber and others.
Dr. Roule went through several trainings in social care and psychotherapy and spent four years in Ireland, where he worked at Crisis Intervention Centre in Dublin.   He experienced satisfaction with his work in that setting.   Since that time, he has remained. involved in the field of social care. Currently Dr. Roule works for Social Care Facility Hagibor, the largest project of Jewish Community of Prague. He works as an International Projects Coordinator and Sociotherapist. He is also involved in academic life, specifically examining modern society with an emphasis on on programs that support personal growth.