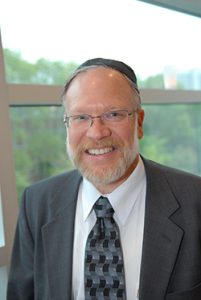 Article: JEWISH HOSPICE – AN IDEA WHOSE TIME HAS COME
Born in Boston, Massachusetts, Rabbi Ronald Weiss received his undergraduate degree from Brandeis University; a Masters degree in Jewish Education and Rabbinic Ordination from Yeshiva University. He was a pulpit rabbi for twelve years, serving congregational communities in Binghamton, New York and Longmeadow, Massachusetts.
Rabbi Weiss moved to Toronto in July, 1994, where he serves as the Director of Chaplaincy Services at Jewish Family and Child Services. As mandated by UJA Federation of Greater Toronto, he is responsible for overseeing the spiritual and religious care received by Jewish patients in 41 hospitals, Jewish residents in 55 long-term care facilities as well as Jewish inmates in 26 Ontario correctional institutions on the Federal, Provincial and Municipal levels.
Rabbi Weiss represents the Jewish community on the Ontario Multi-faith Council for Spiritual and Religious Care, on which he served for many years as a member of its Executive Board. He is the only rabbi in Toronto to carry a badge – serving as a Chaplain-at-large for the Toronto Police Service; as well he is an advisor to the York Region Police Service and works with the Royal Canadian Mounted Police.
Rabbi Weiss is the chaplain of the Jewish Hospice Program and provides spiritual care and counselling to the terminally ill in the Jewish community.